Bog'Art and HOSPICE Casa Sperantei by Real Racing – a partnership for excellence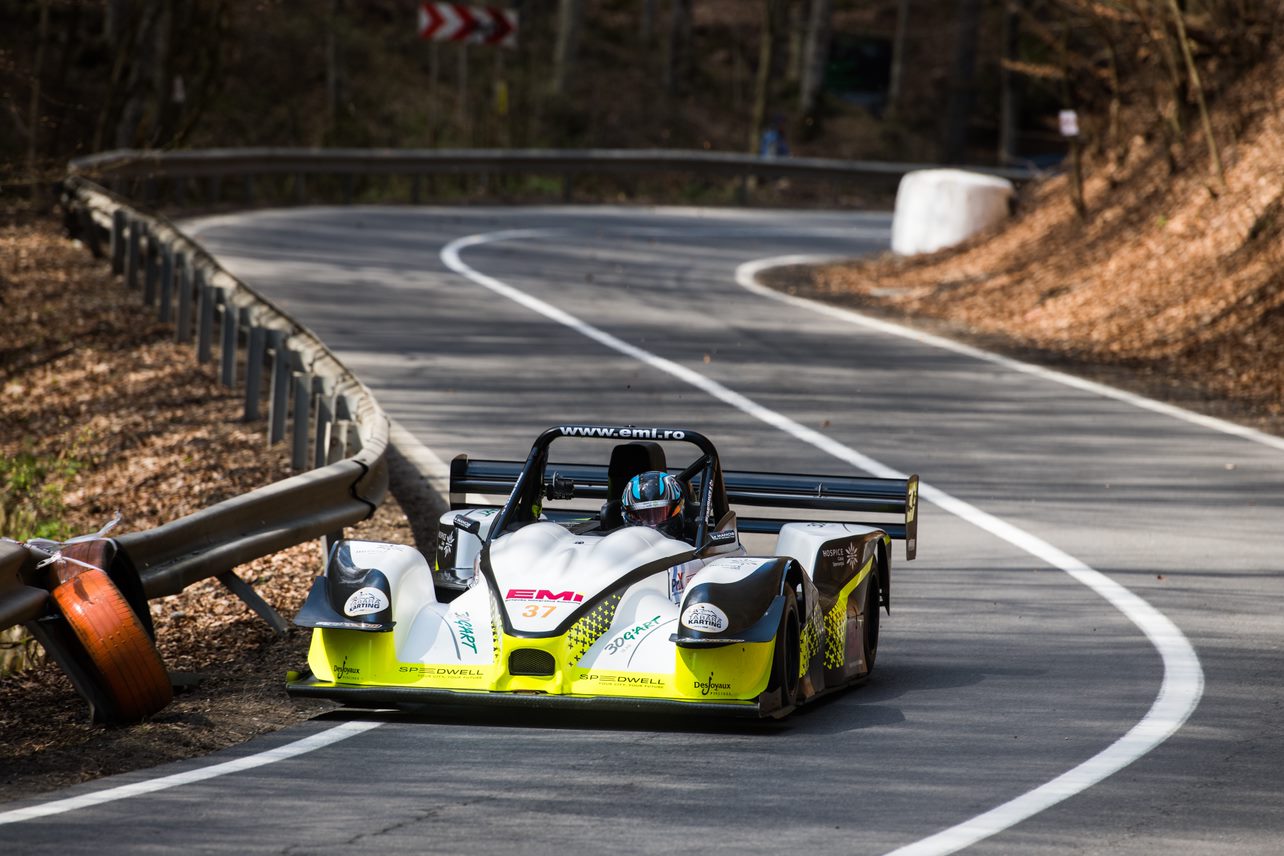 Who is Jerome France?
Jérôme FRANCE – Entrepreneur involve in CCIFER, CCEF and CEO of Emi SA, is also one of the most talented pilots participating in the Romania Super Rally championship, known for his exceptional driving skills and determination.
After a childhood spent in a household where car racing was part of his daily life, assisting his parents with their races, Jerome began competing in Hillclimb competitions when he was 18 years old. He attended a few races in the first year and a full season the following year, when he also won the French junior championship, demonstrating his abilities, skills, and passion for the sport. Although he was a rising star and all eyes were upon him, he decided to prioritize his family and business in Romania.
Despite stepping away from rally competitions, Jerome's love for racing never waned, and he continued to follow it closely, occasionally attending a race with a rented car at the beginning, and with his own Formula Renault later. This caused Jerome to fall into a routine and the racing virus caught him back. As a result, he continued to practice and compete, and his results improved consistently, race after race.
The born of HOSPICE Casa Sperantei by Real Racing
Being a perfectionist, in 2021 he bought a new car, constructed from zero, and convinced Didier Balcaen, Founder and CEO at Speedwell, and Claudiu Popa a young pilot, to form a team and compete together in different races.
Most importantly, they have decided to include ESG practices into their team and in this sense they've partnered and named their team HOSPICE Casa Speranta by Real Racing, offering these two companies exposure, support and sponsorships, helping young teenagers discover and follow their passion for racing.
ESG to performance
As an advocate for sustainable racing, Jerome also looked for eco-friendly alternatives and converted their cars to use bio carburants without petrol instead of gasoline, resulting in a 75% reduction in CO2 emissions, being the first in Romania to implement this.
With his no carbon fuel car Jerome won race after race demonstrating that there is compatibility between ESG and performance, being a model for society and companies, while also having a positive impact on the environment.
This year Jerome's team decided to attend the Super rally with 6 races and the speed championship on a Hillclimb Master Championship – 5 races. Jerome bought a bigger, european-level car, also on bio carburants, and so far he beat all the records and won all the races he could, proving once again that sustainable solutions can bring performance.
The values that guide the team
Jerome's journey serves as a reminder that success is not solely dependent on talent or natural ability, but rather on the consistent effort and commitment put into honing one's skills. By combining hard work, careful analysis of one's strengths and weaknesses, and unwavering dedication to improvement, everyone can reignite their passions and achieve remarkable accomplishments. The key lies in recognizing the symbiotic relationship between these elements and harnessing their power to unlock growth and achievement.
Regardless of the challenges, you must be a perfectionist who strives to exceed expectations. Every day, strive to push your limits and improve your skills. Every company and organization should strive to deliver exceptional results and go above and beyond the call of duty.
Precision is crucial. From navigating treacherous terrain to performing flawless maneuvers, each move of the most powerful machines, each piece of the car, must be at an exact point at an exact time. You can't afford to be wrong or make mistakes because it could cost lives. Precision driving requires not only skill and expertise but also intense focus and concentration. It demands constant awareness of one's surroundings and the ability to make split-second decisions with utmost accuracy.
Teamwork is essential. The pilot comes last, but strategy, preparation, and the work of a passionate, dedicated, and disciplined team come first. The team's strategy is based on careful analysis of the task at hand, identification of potential obstacles, and development of effective plans to overcome them. A passionate and dedicated team also brings enthusiasm and motivation to achieve the desired goals, while discipline ensures that everyone sticks to deadlines, communicates effectively, and stays focused on their respective roles.
One other critical value in racing is risk assumption. Not everything is perfect, including the roads and weather, the cars. You must be willing to take risks and make the best of what you have, even if it means facing potential challenges or failures. Taking risks allows us to push our limits, learn from mistakes, and ultimately grow both personally and professionally. It promotes innovation and creates new opportunities that would otherwise go unnoticed. However, striking a balance between calculated risks and reckless behavior is critical in racing, ensuring that risks are taken with careful consideration and evaluation of potential consequences.
Last but not least, the ESG component is as important as the other values mentioned above. It encompasses aspects such as the car's impact on the environment, team members and partners integration, and its adherence to ethical practices. By considering the ESG component alongside other values, Hospice Casa Sperantei by Real Racing demonstrates their commitment to responsible and sustainable racing, eco friendly solutions and positive impact on the environment.
A partnership for excellence
Precision, perfectionism, and teamwork are values that Bog'Art also shares and promotes as a corporate culture. At Bog'Art , employees are encouraged to strive for excellence in their work and collaborate effectively with their colleagues. This culture of precision and teamwork not only ensures the successful completion of projects but also fosters a sense of pride and satisfaction among the employees. Additionally, Bog'Art recognizes the importance of continuous improvement and invests in training programs to further enhance the skills and expertise of its workforce.
At the same time Bog'Art recognizes Jerome's team dedication to pushing the boundaries of high-performance racing while also prioritizing environmental sustainability, the same way as Bog'Art tries to be sustainable in our construction projects. We have implemented various eco-friendly practices such as using recycled materials and reducing waste. Additionally, we actively seek out innovative solutions that minimize our carbon footprint and promote renewable energy sources.
By partnering with and supporting Jerome's team, Bog'Art aims to demonstrate our commitment to promoting excellence in construction, while also making a significant contribution to a greener future. Together, we strive to inspire others to adopt more environmentally friendly practices and contribute to a more sustainable future.
Share post: