Green Building
Bog'Art and Sustainability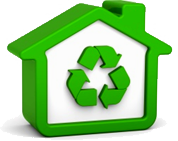 Our approach to sustainable construction is based on the best building practices that emphasise long-term affordability with minimum environmental impact.
These are the four guiding principles that we aim to achieve for our building's entire life cycle, through our designs and practices:
EFFICIENCY   ->   UTILITY   ->   DURABILITY   ->   COMFORT
We ensure that these 4 principles are met through:
The usage of recycled materials
Minimising the generation of construction waste
Minimising our toxic emission in order to reduce our carbon footprint
The management and optimisation of water and energy consumption, in order minimise the operating cots for our projects' owners
A building designed in a sustainable way decreases the environmental impact over the entire life cycle of the building. Furthermore, it also has a positive impact from a financial point of view, Green methods, being one of the most effective ways to reduce costs is to be energy efficient.
Our focus on sustainability goes beyond design and certifications, taking into consideration the needs and benefits of our buildings' tenants. Through applying these values, we also help create healthier and more productive environments.
Green Buildings
In accordance with the Romanian Green Building Council standards, Bog'Art's sustainable projects incorporate design and implementation standards that are both environmentally-responsible and efficient, from a resources perspective.
As a general contractor, our company is able to ensure that projects meet the sustainability requirements of BREEAM and LEED certifications.

Our results are achieved through practices and design methods that aim to reduce:
Land Usage – Materials – Pollution – Waste – Water and Energy

The methods and technologies implemented include, but are not limited to:
Optimisation of job sites in order to reduce energy and waste
Evaluation of existing infrastructure and renovation of existing structures to minimise land usage
Energy-efficient design that optimises orientation of the building
Façades that minimise solar load and heat loss in order to reduce the operation of mechanical systems
Durable materials that extended the building's life cycles
Low carbon technologies and construction materials to avoid ozone depletion
The usage of recycled materials and construction waste whenever feasible
Water-saving plumbing fixtures and the re-usage of water supply
Energy-efficient roofs and water collection systems
High-performing mechanical systems for heating, ventilating and cooling that save energy and minimise operational costs
Energy efficient lighting tools such as LED fixtures, time and motion sensors
Building Management Systems to monitor and thus control energy usage
Use of alternative sources of energy such as solar, geothermal or co-generators that back existing power supplies
Romania Green Building Council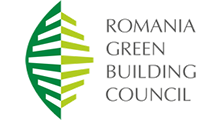 The Green Building Council's mission is to promote environmental responsibility and energy efficiency throughout the construction sector in sustainable and green conscious manners.